Google's Top SEO Ranking Factors in 2023
As the most visited website and with more than 8.5 billion searches each day, Google accounts for 93% of all online searches. In order for your website to rank within specific searches, Google's search engine optimization (SEO) ranking factors determine how well your content matches a particular search. From how old your domain is to how quickly your images load, there are many factors that play into your overall ranking which can either help or hurt your website.
Here are some ranking factors you should know about:
Publishing New, Engaging Content
Your Domain
Mobile Friendliness
Website Loading Speed
Need help with your SEO? Contact JLB today. 
Publishing New, Engaging Content
One of the most important factors that can determine the success of your website is publishing new and engaging content as search engines strive to provide their users with the best possible results that meet their needs. In order to do this, you'll need to create content that is unique, relevant and valuable to your audience. This can include things like blogs, industry reports, and interviews with other leaders in your industry.
In terms of how often you should be publishing new content, there is no set formula. It really depends on the type of website you have, your industry, and your target audience. However, it is generally recommended to publish content at least once a month, or more frequently if possible.
Your Domain
Your website address, or domain name, heavily influences how easily your website is found by search engines and users alike. Google uses a complex algorithm that considers various aspects of your domain such as its age, domain strength, and searchability to determine its ranking. Let's break down the role those components play:
Domain Age: The older your domain, the more likely it is to be considered an authoritative and trustworthy source of information for Google, who sees it as a more established presence. However, an older domain doesn't mean that a newer one is at a disadvantage. It's still possible to build up authority and rank well even with a newer domain.
Strength: This refers to the quality and quantity of backlinks pointing to your site from other reputable websites. Google sees backlinks as a vote of confidence in your content and considers them a key factor in determining the authority and relevance of your website.
Searchability: This refers to how easily search engines and users can find your site through relevant search queries. One way to increase your site's searchability is to optimize your website including relevant keywords that accurately describe your business or niche. Additionally, having a clear and concise domain name can make it easier for users to remember and share your website.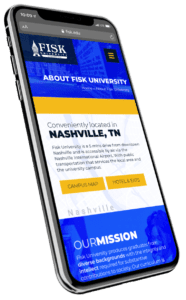 Mobile Friendliness
A recent report found that In the first quarter of 2023, mobile devices generated over 58% of global website traffic. It has also consistently hovered around the 50% mark since the beginning of 2017 before permanently surpassing it in 2020. Therefore, it is essential to have a mobile-friendly website to cater to the growing mobile user base.
Mobile friendliness refers to how easily your website can be accessed and navigated on a mobile device. This means that your website should be responsive and able to adapt to various screen sizes, be it a smartphone or a tablet. If your website is not mobile-friendly, it may take a longer time to load, be difficult to navigate and result in a higher bounce rate.
Mobile friendliness plays a crucial role in SEO. This means that if your website is mobile-friendly, it will have a higher chance of ranking higher on search engine results pages (SERP). To make sure your website is mobile-friendly, you can run a mobile-friendly test on Google's Mobile-Friendly Test Tool. This tool will check whether your website is optimized for mobile devices and suggest improvements if required.
When Google moved to mobile-first indexing in 2019, it became a ranking factor on desktop too. To see if you have any issues with your website, you can use Google Search Console's Mobility Usability report.
Website Loading Speed
Another factor that has become increasingly important for ranking well in Google's algorithm is website loading speed. Slow loading times can result in a poor user experience, which ultimately can hurt your rankings.
So how fast should your website pages load? The ideal load time is under 3 seconds. To make your website load faster, you can take several steps, such as deleting old content that may be slowing down your site, compressing images to reduce their file size, and optimizing your code to improve its efficiency. Additionally, choosing a reliable hosting provider can help improve website loading times.
Let JLB's Experts Help You With Your SEO Efforts
Search Engine Optimization is needed now more than ever. With that in mind, it's hard planning, executing, and refining an SEO strategy that gets results. Furthermore, it's a battle to get the right SEO strategy that continually increases traffic and qualified leads.
Our Nashville SEO experts are here to strategize an effective plan and get you the results you need.
Have A Project For Us?
Website design services & digital marketing tailored for user experience and
attracting the right traffic for you with support-that-matters!
Contact Us