Graphic Design Nashville TN
Professional Graphic Design
Visual presentation of your business is critical to grabbing the attention of prospects and setting you apart from your competition. Creative consistency, eye-popping concepts, digital movements, print layout, textures, mobile displays, color palette, typography and much more are all small details that make for a great graphic piece that delivers the message just right.
Whether you need web design, print work, business cards, info graphics or have other graphic design needs, JLB is ready for the challenge. Our team has won national awards as a graphic design firm and has over 15 years experience creating professional and compelling graphic design in Nashville, TN; Brentwood, TN; and Franklin, TN.
We promise to take care of you.
Need great graphic design?  
Web Design
Forrester Research has stated that the website design is the #1 best return on investment for your digital marketing dollar!
That is a big statement and JLB takes your investment into your web design very seriously. We only create customer website designs with graphics thoughtfully planned for presentation on PCs and mobile devices. Big and bold concepts with animations, angles, parralaxing visuals, hover effects and more to guide the website visitors, get there attention and drive your business success.
JLB has become the go-to-company for compelling and differentiating web design services in the Nashville, Brentwood and Franklin TN markets but also with many national clients. We can make a difference!
Ad Pages & Ads
Digital marketing is built to accomplish one goal – to get high-quality traffic pouring into your website.
Many visitors receive their first impression is on an incredibly important landing page.  A well-designed Ad landing pages are an essential component of any PPC campaign. Your landing pages are your chance to greet a targeted audience and encourage them to take the next important step towards conversion. If your landing pages aren't designed to do this, then it's practically guaranteed that your PPC campaign will fall flat.
Social Media
Simple, powerful graphically designed Ads with an intent to grab the right traffic for your business!
Our professional graphic design team has perfected the art and science of social media advertisements.  Social platforms are a great way to connect with clients at a more personal level or communicate information to followers.  Creating the right Ads with a strong brand a visual pop but that also meet the strict guidelines of the social media platforms will catch user attention and compel them to want to explore your content.
Banners
Big, bold and attention getting custom graphic designed banners!
We have a passion for powerful graphics that get attention. Vertical, horizontal, type of material and display all matter in sending the right message. JLB will work with you to make sure we convey your message and services with impact and brand power! Working with our graphic design team,  we can render a "print ready" graphic and help you work with printers to ensure you get the right final product.
Business Cards
A professionally designed and eye-catching business card can truly set you apart from your competition.  A great business card makes a statement! 
When your business card gets into the hands of potential clients, it sends a message about the quality of your business. Our graphic design team has created thousands of business card concepts that are compelling and creative. We want your business cards to stand out and represent you the right way.  It should be done right and not ordered online with thin paper, lackluster graphics and the feeling that you may have printed them at home. Let us help lift your image!
Print Collateral
Great graphic designed collateral gains credibility and says to your clients "we are talking to the right team". JLB's graphic design team has won national awards for design concepts and has over 15 years deep rooted experience. We design all types of materials (print and digital) to build your brand, define your message and help grow your business.
We believe that a well-designed piece of collateral should be able to sit on a desk and catch anyone's attention and persuade them to want to explore.  That is our goal in every piece we create!
Graphic Design Examples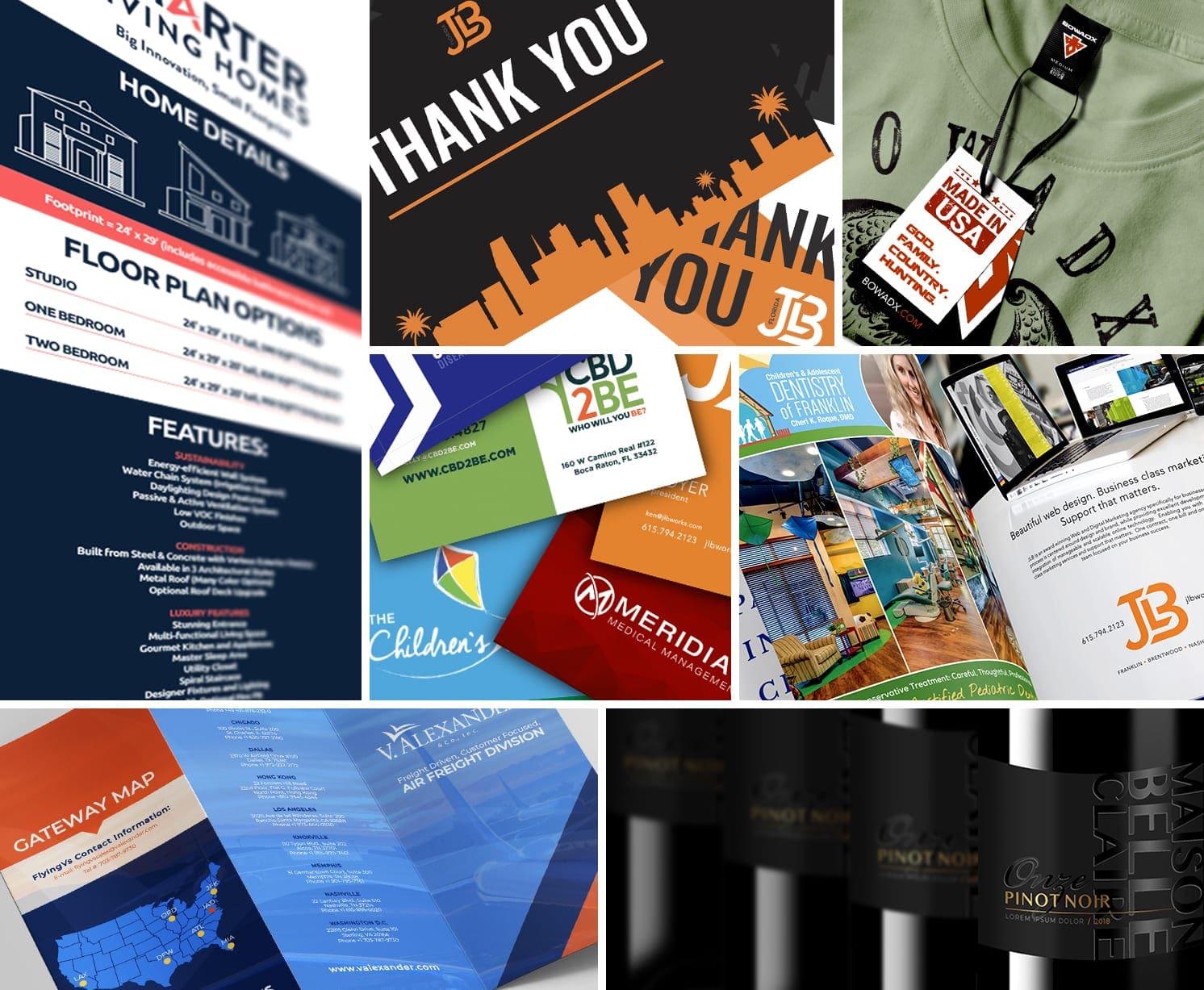 Get in Touch
Need web design, SEO, Social, Google Ads, marketing, branding or support/maintenance of it all in one call?  We promise to take great care of you. Look forward to talking…